Swing Trading
Forex Future System Trading
ForexFutureSystem Trading - Swing Trading: Swing Trading is suitable for trend trading and has been around for many decades. It has been researched and practised by many traders including Gann, Tubbs, Livermore, Dow and Wilder.
An effective swing trading strategy can be applied in a systematic manner and produce healthy profits.  Analysing the market from the point of a swing trader is helpful because that is way financial markets advance and decline. A market that is rising for a few hours, days, weeks or months does not do so in a linear fashion. Markets typically advance in a wave like fashion making higher tops and higher bottoms until the trend finally exhausts itself. Similarly, when a market declines it typically does so in a wave like movement.
 A note of extreme caution here though. In a panic, markets can crash. In these conditions, traders may hold on for the market to rally before exiting long positions. They wait in disbelief as the market sinks expecting the market to rally as "it usually does". By the time the market does rally it is often too late for them because their money is gone. This is why an effective stop loss and risk management strategy is so important and will protect your hard earned cash.
Swing trading can be applied to any time frame be it intra-day, daily, weekly or monthly. Look at the following 30 minute candlestick chart of the NZD/USD futures contract.  Observe the downtrend and how the market declines making lower tops and lower bottoms.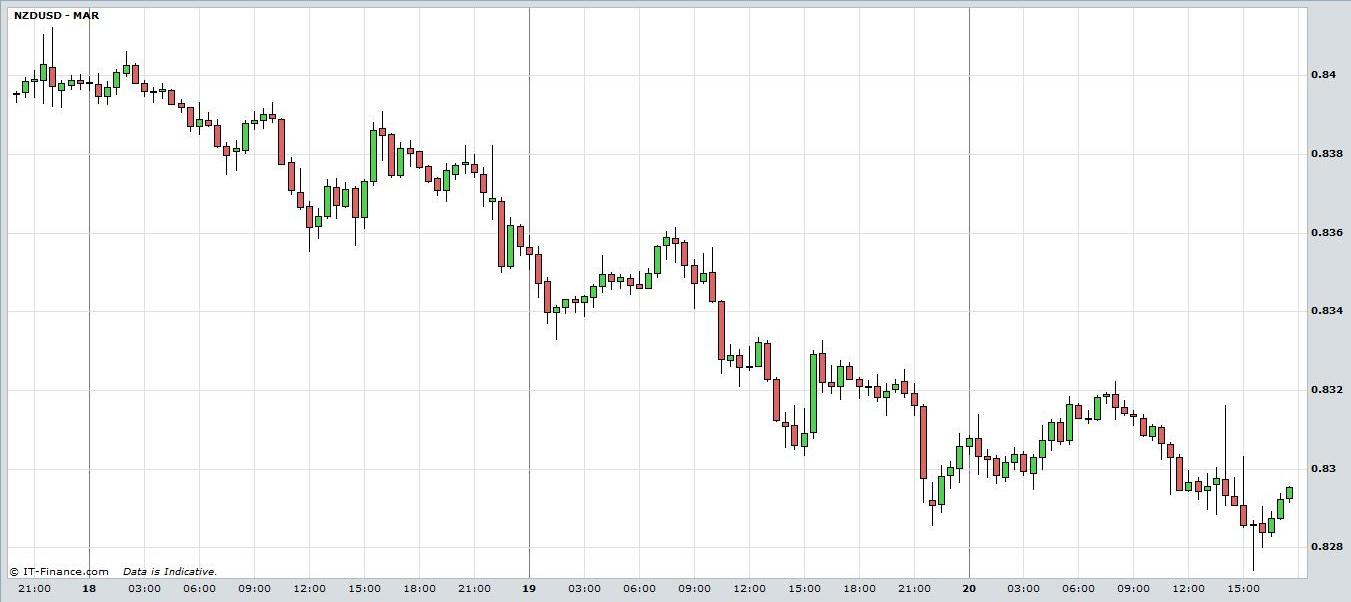 Forex Future System Trading. View chart in interactive mode at ProRealTime.com.
A swing trader likes to analyse the market in terms of the larger swings and trade accordingly. The following chart shows how a swing trader would look at this market. The use of swings eliminates much of the noise and short term volatility. It is interesting to note how the declines tend towards similarity in pip size. This is another phenomenon which can manifest in any type of market.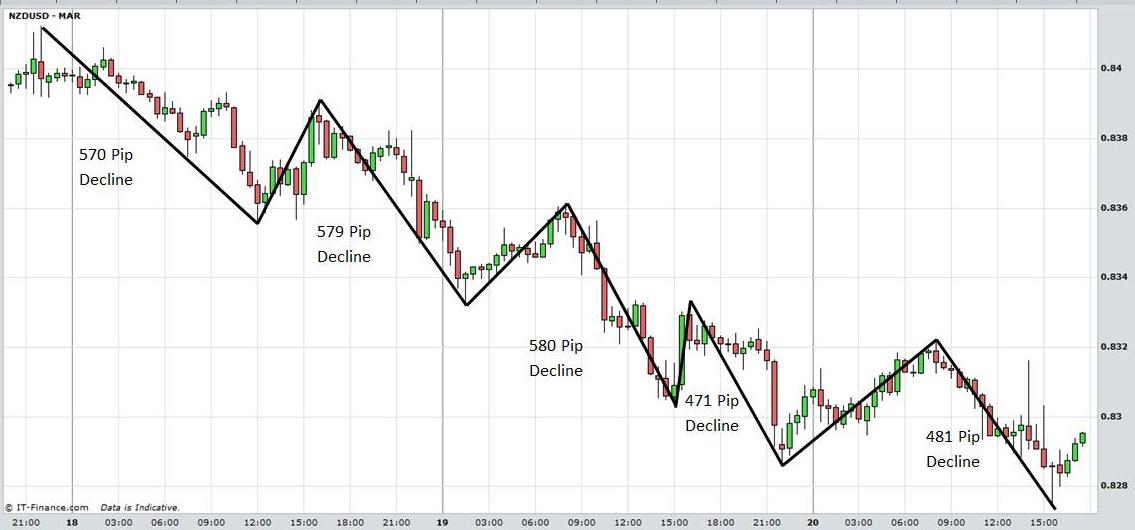 Forex Future System Trading. View chart in interactive mode at ProRealTime.com.
Rising markets tend to rise in a more swing like fashion than falling markets which can decline quicker and in a more vertical manner. The monthly chart below of the USD/CHF (Swiss Franc) futures contract demonstrates how the swing trading method can be applied to a long term time frame.
A major bottom formed on 21st November 2008 and advanced for one year to top out on 26th November 2009. The advance or range upwards was 1956 pips. The market declined to form another major bottom on 1st June 2010. A further advance began to form another swing top on 14th Oct 2010. This advance was 2045 pips, very close to the previous advance. Another swing low formed on 1st December 2010 to swing upwards to higher prices again.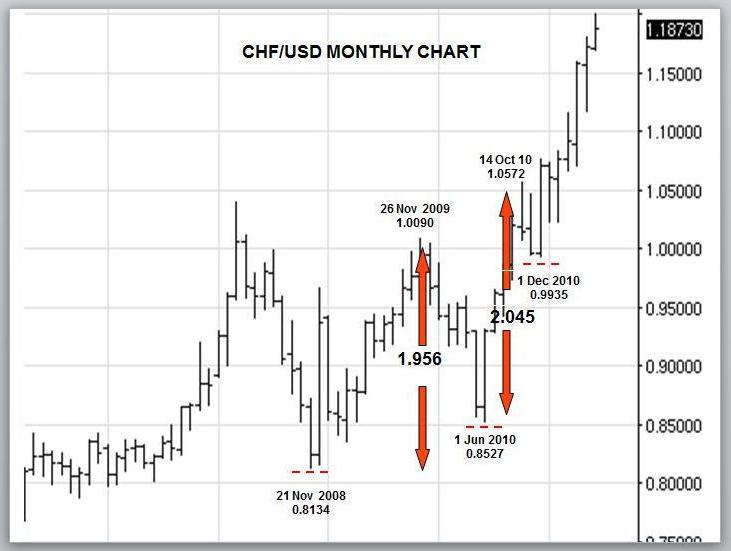 Forex Future System Trading. View chart in interactive mode at ProRealTime.com.
Traders typically attempt to go short close to the initial decline and exit at the end of the decline. Longer term traders may hold onto positions and add more as subsequent down swings manifest. This approach can be extremely profitable as long as the trend sustains itself.
It is not within the scope of this article to discuss but there are many ways to trade using swing trading techniques. In a rising market, for example, some traders wait for the market to decline a certain percentage before considering taking a long position. Others wait for a certain number of days to alter their swing charts.
Essentially the aim is to get as much out of the swing in the direction of the trend as possible. A trader might enter when the high of the previous bar is broken. Others may take a more cautious approach and wait for the market to close above this level. Stop losses are usually placed somewhere under the swing low. The exact level it should be placed at is another aspect of research. When taking profits some traders may set a target and others implement a trailing stop loss. All these factors will affect results but this is the kind of research necessary to maximise profits.
An attractive aspect of swing trading is that it allows the development of a systematic trading approach. Once it is applied with discipline, it gets traders/investors trading in the direction of the market and limits losses.
Swing Trading can be used to trade Stocks, Exchange Traded Funds, Forex, Commodities, Bonds, Futures, etc.
Return to Top of Forex Future System Trading: Swing Trading